Building on 25 years of cancer treatments.
At Fresenius Kabi, we have one of the most comprehensive, non-branded oncology portfolios in the industry and have been supplying the U.S. with oncology medicines for more than a quarter of a century.
60+
Unique oncology product codes,
12 products in market leading position*
460+
Chemotherapy regimens supported by one or more Fresenius Kabi products**
220+
Chemotherapy regimens that can be supported entirely by Fresenius Kabi products**
14,000+
U.S. customers used oncology products from Fresenius Kabi in 2020
20+
Oncology drugs in development,
biosimilars, and generics
A leading manufacturer
in transfusion medicine products and cell processing equipment
* 6 products at #1 market share & 6 products at #2 market share. Source: IQVIA;
** Fresenius Kabi oncology products validated against chemotherapy regimen list from National Comprehensive Cancer Network (accessed 4/2020 from nccn.org)
The role of biosimilars in oncology
By 2030, the total spending for cancer care in the U.S. is projected to be around $246 billion. As cancer care spending continues to grow, so does patient cost-sharing.1 A 2017 report found that the average per-patient out-of-pocket costs for the first year following a cancer diagnosis were between $3,600 and $5,500 depending on cancer type, treatment required and insurance coverage.2
In their 2018 statement on biosimilars, the American Society of Clinical Oncology (ASCO) acknowledged that biosimilars will play an important role in the future care of patients with cancer and will improve access to medicines.3 The growing availability of oncology biosimilars could help to provide more treatment options, increase access to life-saving medicines and potentially lower treatment costs for both patients and payers.4
As of May 2022, there are 36 FDA-approved biosimilar products in the U.S., many of which are utilized in oncology or supportive care for patients with cancer.5,6 With increased experience and adoption of oncology biosimilar products, the substantial savings versus the reference products will also continue to increase.7
Fresenius Kabi oncology products are used in many different cancer types including: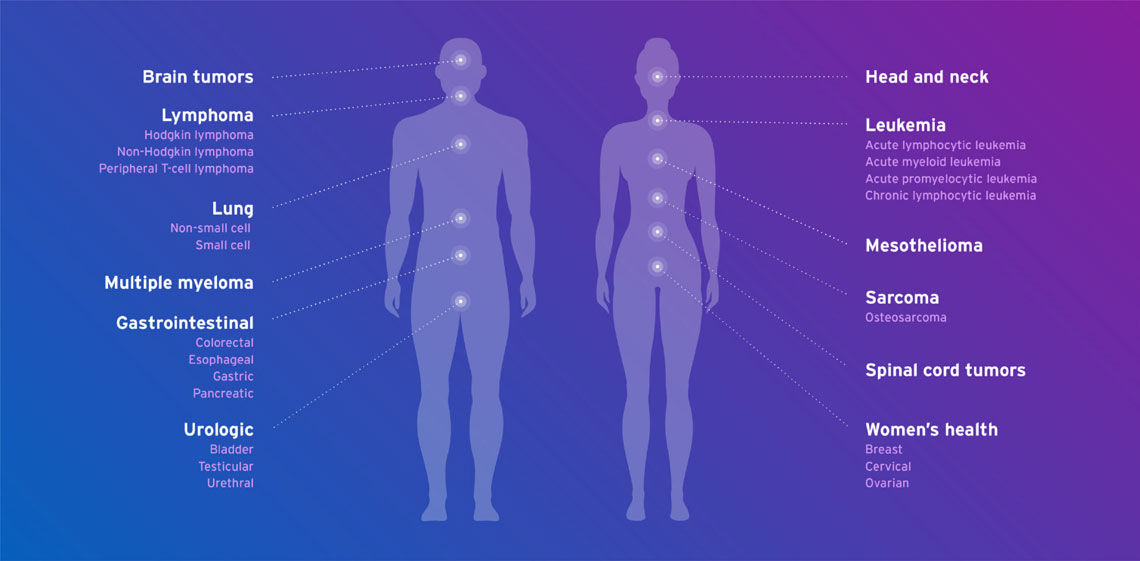 Immunology expertise
Learn about our long-term commitment to auto-immune therapies. Read More
Mariotto AB, Enewold L, Zhao JX, Zeruto CA, Yabroff KR. Medical Care Costs Associated with Cancer Survivorship in the United States. Cancer Epidemiol Biomarkers Prev. 2020;29(7):1304-12.
Dieguez G, et al. https://www.milliman.com/en/insight/2017/a-multi-year-look-at-the-cost-burden-of-cancer-care. Published 2017. Accessed May 5, 2021.
Lyman GH, et al. American society of clinical oncology statement: Biosimilars in oncology. J Clin Oncol. 2018;36(12):1260-1265.
FDA. https://www.fda.gov/drugs/therapeutic-biologics-applications-bla/biosimilars. Published 2020. Accessed May 5, 2021.
FDA. https://www.fda.gov/drugs/biosimilars/biosimilar-product-information Published 2020. Accessed March 18, 2022.
Lyman GH. How biosimilars will impact costs and care in oncology. Clin Adv Hematol Oncol. 2019;17(10):544-547.
Tilleul PR, et al. Introduction of biosimilar pegfilgrastim in France: Economic analysis of switching from originator [published online ahead of print 2020 Oct 6]. J Oncol Pharm Pract. 2020:1078155220962208.
Advanced science, manufacturing and support for biosimilars