What does it take to make life-changing medicines?
Biosimilar drug development requires a deep understanding of the reference product.1 This includes analysis and characterization of the reference product to identify its key characteristics.2
Once the reference product has been characterized, live cells are used to develop biosimilar candidates using the following steps:
Genetic instructions are inserted into a clone (cell) to produce a specific candidate biologic3

After different versions of the biologic are made, each one by a different cell, screening is 

conducted to identify the cell line that produces the protein that is most similar to the reference 

product3


A process to manufacture the biosimilar is developed, in a way that maximizes the similarity 

between the biosimilar and the reference product3,4
Compared to reference products, which usually take around 8 to 10 years to reach the market, the
time to market for a biosimilar is around 7 to 8 years.5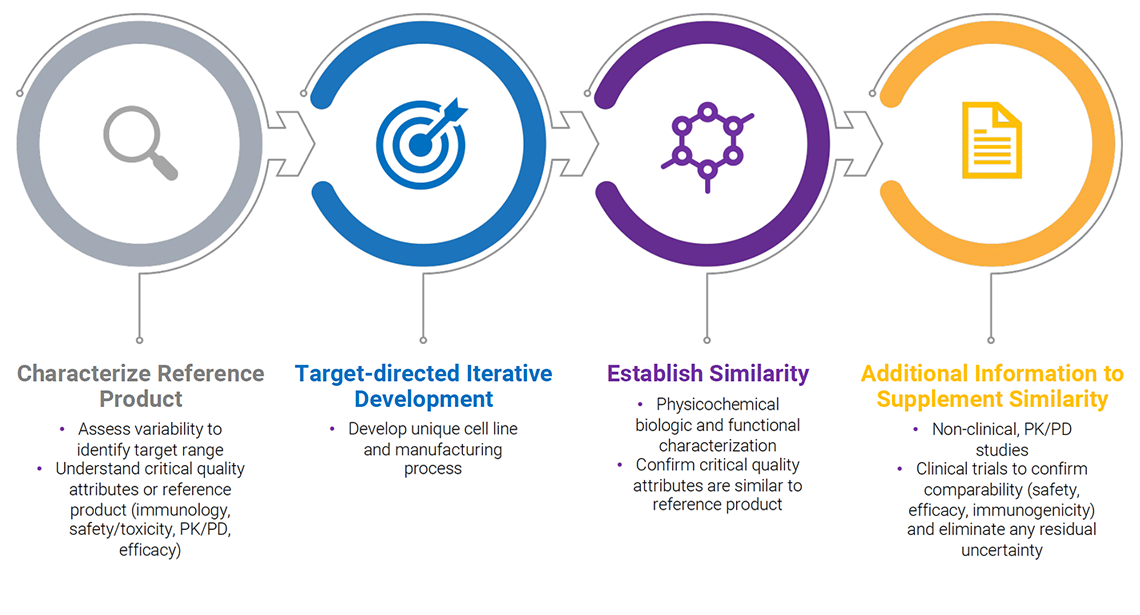 PD: pharmacodynamics; PK: pharmacokinetics
Development of Fresenius Kabi biosimilars
Equipped with global expertise in biologic development and manufacturing, Fresenius Kabi applies the same high quality standards to developing and producing biosimilars that are required for the development of reference products.
We bring years of pharmaceutical experience and technical knowledge to ensure the production of a consistent, high-quality product.
Fresenius Kabi biosimilars meet the high regulatory standards required by the FDA, based on totality of evidence across analytical, pharmacokinetic/pharmacodynamic (PK/PD), clinical safety and immunogenicity assessments against the reference product.6
Discover more about how biosimilars are manufactured here.
Advanced science, manufacturing and support for biosimilars