Moving forward with reassurance.
The FDA regulatory approval process has been designed to robustly assess each biosimilar submitted on a case-by-case basis to ensure that health care providers and patients can rely on their efficacy, quality and safety.1
The licensure pathway
Due to the complexity of the manufacturing process of biologics, the small molecule drug approval process cannot be applied to biosimilars.2 Instead, biosimilars undergo an abbreviated licensure pathway to which the FDA still applies the same high standards of safety and efficacy as it does for reference biologics or small molecule drugs.2
While clinical trials for reference biologics are designed to demonstrate superiority, the goal of biosimilar clinical trials is to provide proof of quality and similarity in safety and efficacy.2 Studies to evaluate mechanism of action, determine dosing, or show patient benefit are not needed for biosimilars, because these were all established by the reference product.1,3,4
This licensure pathway may result in faster access to biosimilars, providing health care providers and patients with additional therapeutic options while maintaining confidence in their efficacy, quality and safety.1
The totality of evidence approach
The FDA applies the 'totality of evidence' approach to biosimilar regulatory approval, requiring a rigorous stepwise process of comparison with the reference product.1,2 Assessing the 'totality of evidence' involves thorough examination of all data submitted from extensive analytical, non-clinical and comparative clinical studies.1
To perform any comparator studies, a complete understanding of the relationship between structure and function of the reference product must be obtained.5 Data is analyzed and evaluated after each stage to identify any residual uncertainty about biosimilarity and eliminate it through further studies.1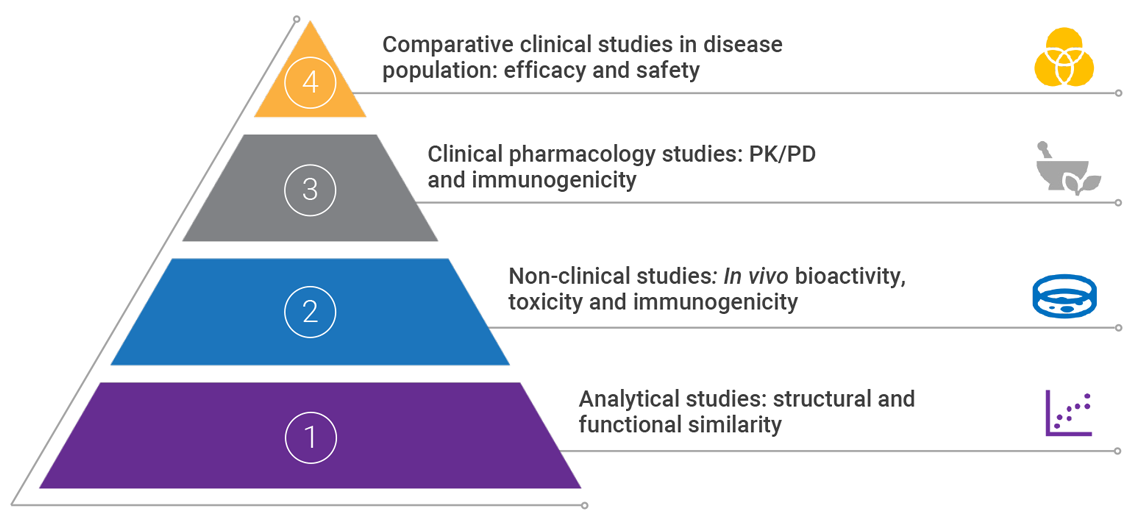 PD: pharmacodynamics; PK: pharmacokinetics
Adapted from Janjigian YY, et al 2018 and Markus R, et al. 2017.2,5
An application for the approval of a biosimilar or interchangeable product must include data demonstrating biosimilarity to the reference product. This usually includes data from:
Analytical studies: demonstrating that the biologic is highly similar to the reference product, in spite of minor differences in clinically inactive components6
Non-clinical studies, including an assessment of toxicity6
A clinical study (or studies) that demonstrates safety, purity and potency of the proposed biosimilar product in one or more indications for which the reference product is licensed. This usually includes assessing immunogenicity, pharmacokinetics, and, in some cases, pharmacodynamics, and may also include a comparative clinical study6
In addition to the above, an application for an interchangeable product must also include information or data demonstrating that:
The proposed interchangeable product is expected to produce the same clinical result as the reference product in any patient6
For a product administered more than once to a patient, switching between the proposed interchangeable product and the reference product does not lead to increased safety risks or decreased effectiveness compared to using the reference product without any switching between products6
The exact FDA data requirements vary with each application depending on:
1) The information available for the reference product
2) The strength of biosimilarity demonstrated by each round of evidence
The FDA places strong emphasis on ensuring high quality of manufacture, processing, packaging and storage.1
Heterogeneity is inherent to all biologic drugs and is not limited to biosimilars.2,3 To combat this, the FDA requires extensive characterization of lot-to-lot variability of both reference product and biosimilar. The degree of batch variability must be maintained from the reference product.1
Following approval, biosimilars must undergo the same ongoing safety monitoring as biologics. Evidence from both the regulatory assessment and post-marketing surveillance has confirmed that biosimilars have comparable safety and efficacy profiles to their reference products.2,7-10
FDA. https://www.fda.gov/regulatory-information/search-fda-guidance-documents/scientific-considerations-demonstrating-biosimilarity-reference-product. Published 2015. Accessed May 5, 2021.
Janjigian YY, et al. Talking to patients about biosimilars. Future Oncol. 2018;14(23):2403-2414.
Declerck P, et al. The language of biosimilars: Clarification, definitions, and regulatory aspects. Drugs. 2017;77(6):671-677.
Thill M, et al. Biosimilars: what the oncologist should know. Future Oncol. 2019;15(10):1147-1165.
Markus R, et al. Developing the totality of evidence for biosimilars: Regulatory considerations and building confidence for the healthcare community. BioDrugs. 2017;31(3):175-187.
U.S. Food and Drug Administration. Biosimilars. 2018. Available at:
https://www.fda.gov/drugs/developmentapprovalprocess/howdrugsaredevelopedandapproved/approvalapplications/therapeuticbiologicapplications/biosimilars/default.htm 
(Accessed February 2019).
Braun J, et al. Switching to biosimilar infliximab (CT-P13): Evidence of clinical safety, effectiveness and impact on public health. Biologicals. 2016;44(4):257-266.
Dörner T, et al. The changing landscape of biosimilars in rheumatology. Ann Rheum Dis. 2016;75(6):974-982.
Jahnsen J. Clinical experience with infliximab biosimilar remsima (CT-P13) in inflammatory bowel disease patients. Therap Adv Gastroenterol. 2016;9(3):322-329.
Jørgensen KK, et al. Switching from originator infliximab to biosimilar CT-P13 compared with maintained treatment with originator infliximab (NOR-SWITCH): a 52-week, randomised, double-blind, non-inferiority trial. Lancet. 2017;389(10086):2304-2316.
Advanced science, manufacturing and support for biosimilars